Artisteer Rocks
Today I will have to shout out the praising words: "Artisteer rocks!" This is so true… For the first time ever, I have managed to create a theme from scratch using Artisteer – and all of it within minutes compared with never having tried doing this before.
Well, that's not entirely true, because I have adapted templates before, and I did do a single test on my own computer just to get the feel for the program. But, nonetheless, Artisteer is a truly intuitive program.
This was the previous design:
This is the new design:
It's now 3:56AM, and I just wanted to play around a bit with an idea for a design. Before I knew it, I was ready to upload a new theme. 🙂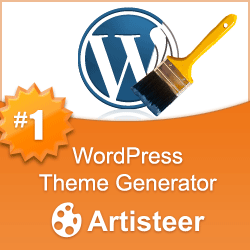 Truly amazing, and I want to thank Britt Malka from
Money Making Ideas
for having the banner linking to Artisteer. It was truly amazing to get a hold of such a professional program at such a low price. You can safely buy that program if you have ever wanted to create your own themes for your blogs.
You can become a designer for a fraction of the cost of competing systems. Stay tuned as september will unfold lots of new opportunities now that the design is fresh. 🙂